JACE® 9000
The JACE 9000 controller, optimized for Niagara 4, provides integrated control, supervision, data logging, alarming, scheduling and network management.
It adds to the enhanced user experience, maximizing Niagara's advantages in delivering HTML5 views, charting and other aspects of data visualization, as well as its robust security and improved device management capabilities. With simple configuration, tool-less installation, low-cost integration and high-powered performance, the JACE controller is a dramatic evolution in connecting and controlling devices worldwide.
With a Quad Core processor and double storage and RAM, the JACE 9000 offers increased performance and capacity with faster bootup and station load time. The JACE 9000 is fully compatible with existing expansion models and the same footprint as past models allows for seamless replacement for futured updates.
The JACE 9000 can also be ordered without the wireless interface if needed.
Features
Quad Core power for unparalleled performance
Doubled RAM and storage to amplify capabilities
Swift start-up and a responsive UI for seamless interaction
Every JACE 9000 is available with a Niagara 4.13 or higher software license and Tridium's standard drivers.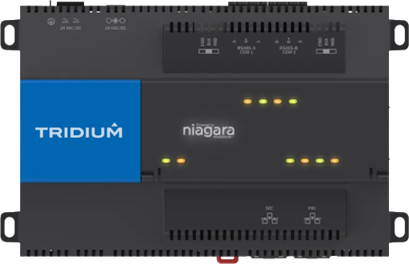 JACE® 8000 / QHUNTER
Tridium has created an all-new hardware platform optimized for Niagara 4: the JACE 8000 controller. This next-generation controller features a global design that functions with legacy systems and can scale for future needs. The JACE 8000 controller offers significant improvements over previous generations. The JACE 8000 is a compact, embedded IoT (Internet of Things) controller and server platform for connecting multiple and diverse devices and sub-systems. With Internet connectivity and Webserving capability, the JACE 8000 controller provides integrated control, supervision, data logging, alarming, scheduling and network management. It streams data and rich graphical displays to a standard Web browser via an Ethernet or wireless LAN, or remotely over the Internet. The licensing model for the JACE 8000 controller is simplified and features standard drivers along with optional IO and field bus expansion modules for ultimate flexibility and expandability. The JACE 8000 controller operates with Niagara 4, the latest version of the Niagara Framework®, for optimum performance. In larger facilities, multibuilding applications and large-scale control system integrations, Niagara 4 Supervisors can be used with JACE 8000 controllers to aggregate information, including real-time data, history and alarms, to create a single, unified application.
Features
Powerful Niagara 4 hardware platform with easy software upgrade capability
Modular hardware design for fast and easy installation
Tool-less installation
Expandable with up to four option modules
Native Wi-Fi capability
24VAC/DC—standard global power supply
Standard open drivers included
Easy to select the right capacity license
Intuitive user interface
Rich choice of different colors, materials and finishes for differentiated OEM brand identification
Supported drivers
Many open protocol drivers are included:
BACnet IP and MSTP, LON, KNX-IP, M-bus, Modbus all types, oBiX, OpenADR, SNMP, MQTT, OPC-UA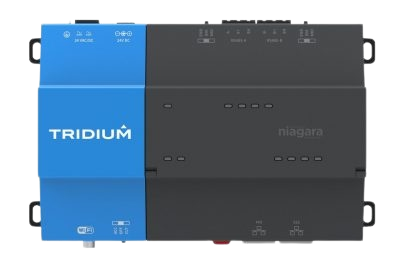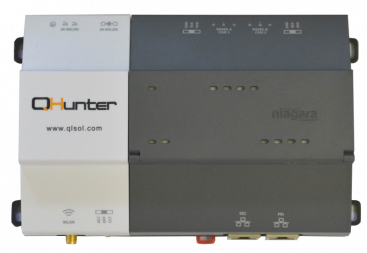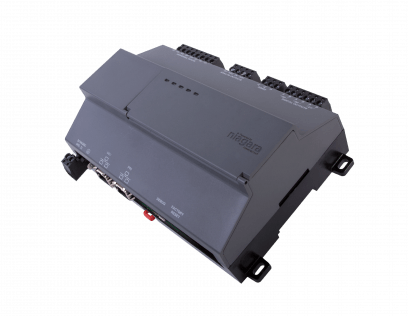 NIAGARA EDGE 10
Tridium's Niagara Edge 10 is an IP-based field equipment controller powered by the Niagara Framework®. By leveraging the Niagara Framework, Niagara Edge 10 offers a single-tool infrastructure, the ability to create smarter, more efficient systems, and world-class security. Niagara Edge 10 controllers run the full Niagara stack, with 10 points of on-board IO and IO-R-34 expansion capability. Niagara Edge 10 controllers are perfect for powering fan coil units, single-stage air handling units, heat pumps and more. Expand the IO with an IO-R-34 to open up even more possibilities. Niagara Edge 10 licensing supports three devices and 50 total points to harness the full power of Niagara at the edge.
Niagara 4 – Requires Niagara 4.7 or later.
Features
IP-based IO controller
Powered by the Niagara Framework®
5 universal inputs
3 digital outputs
2 analog outputs
1 485 serial port
2 ethernet ports that support daisy-chain topology
Expandable via one IO-R-34
Powered via 24VAC/DC source
Applications
Fan coil unit
Single-stage air handling unit
Water source heat pump
Zone control
Boiler with hot water reset
And much more…