AAC20
The AAC20 is an advanced control device to building automation and HVAC systems. Using SVM (Sedona Virtual Machine) allows the user to quickly and easily program in real time. Large number of inputs and outputs allows to integrate with other devices and sensors (AAC20 provides 8xUI, 4xDI, 4/6xAO and 4xDO). Legible, fully programmable LCD, can be used as simple interface to local operation of system. Built-in RS485 can be used to expand number of I/O by connecting MINI or MIX series I/O modules using Modbus ASCII/RTU. In addition, to increase the versatility of the controller, it supports many open communications protocols: BACnet, Modbus, SOX, DALI, M-Bus, 1-Wire or oBIX. The AAC20 is mounted in a housing adapted for DIN rail mounting or directly on a panel. Separate, easy to remove connectors allow quick wiring without removing the entire module.
KEY FEATURES
Sedona Framework 1.2 support
Real Time Clock (RTC)
Configuration via web
2x Fast Ethernet with built-in switch
RS485 port (Modbus or BACnet)
Built-in Modbus Gateway TCP/IP to RS485
DALI Interface: built-in power supply (option)
M-Bus Interface: up to 20 devices (option)
1-Wire Interface
USB Host Interface
Built-in LCD Display (option)
Micro SD card slot to log historical data and alarms
Fast processor with ARM dual core 204MHz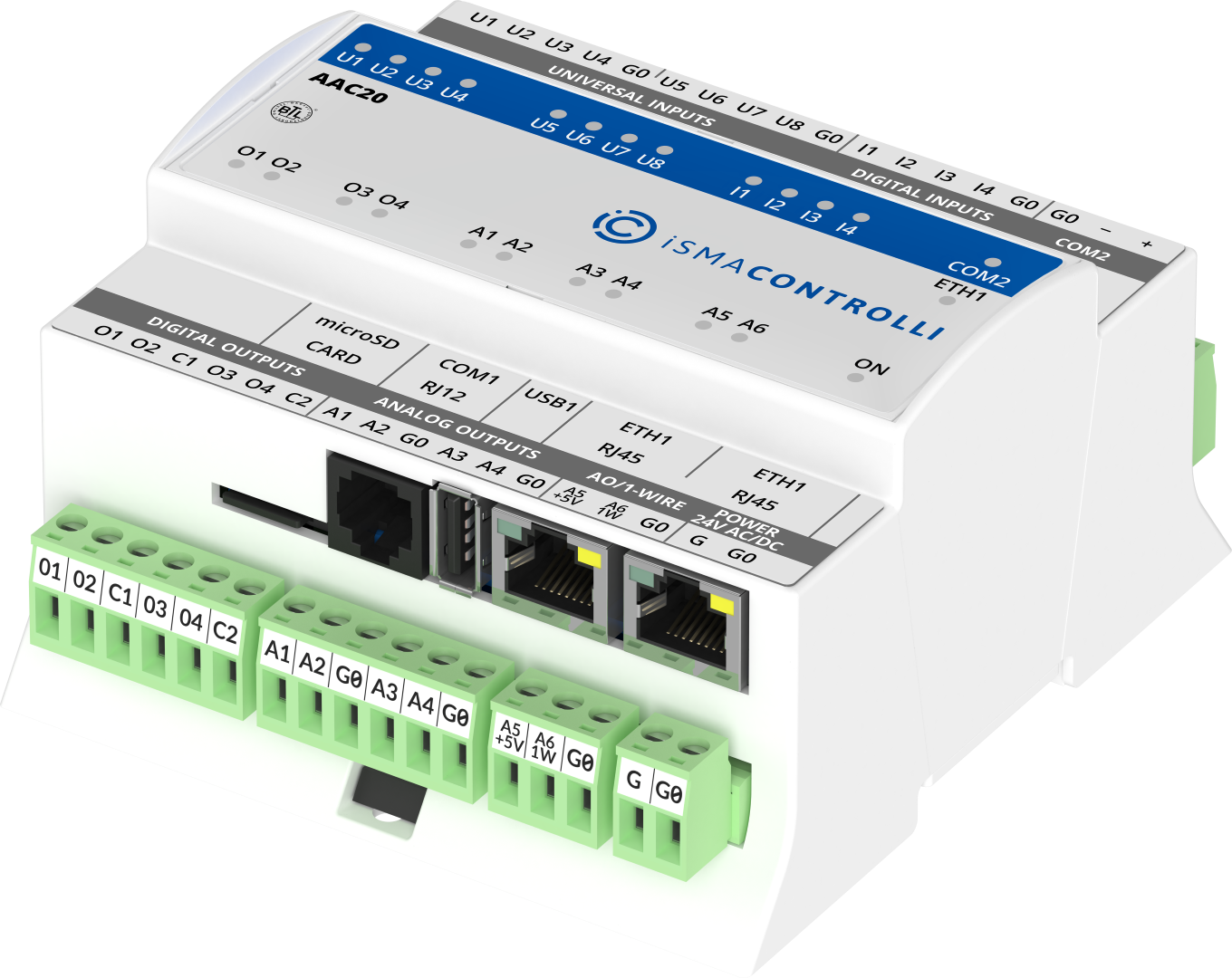 AAC20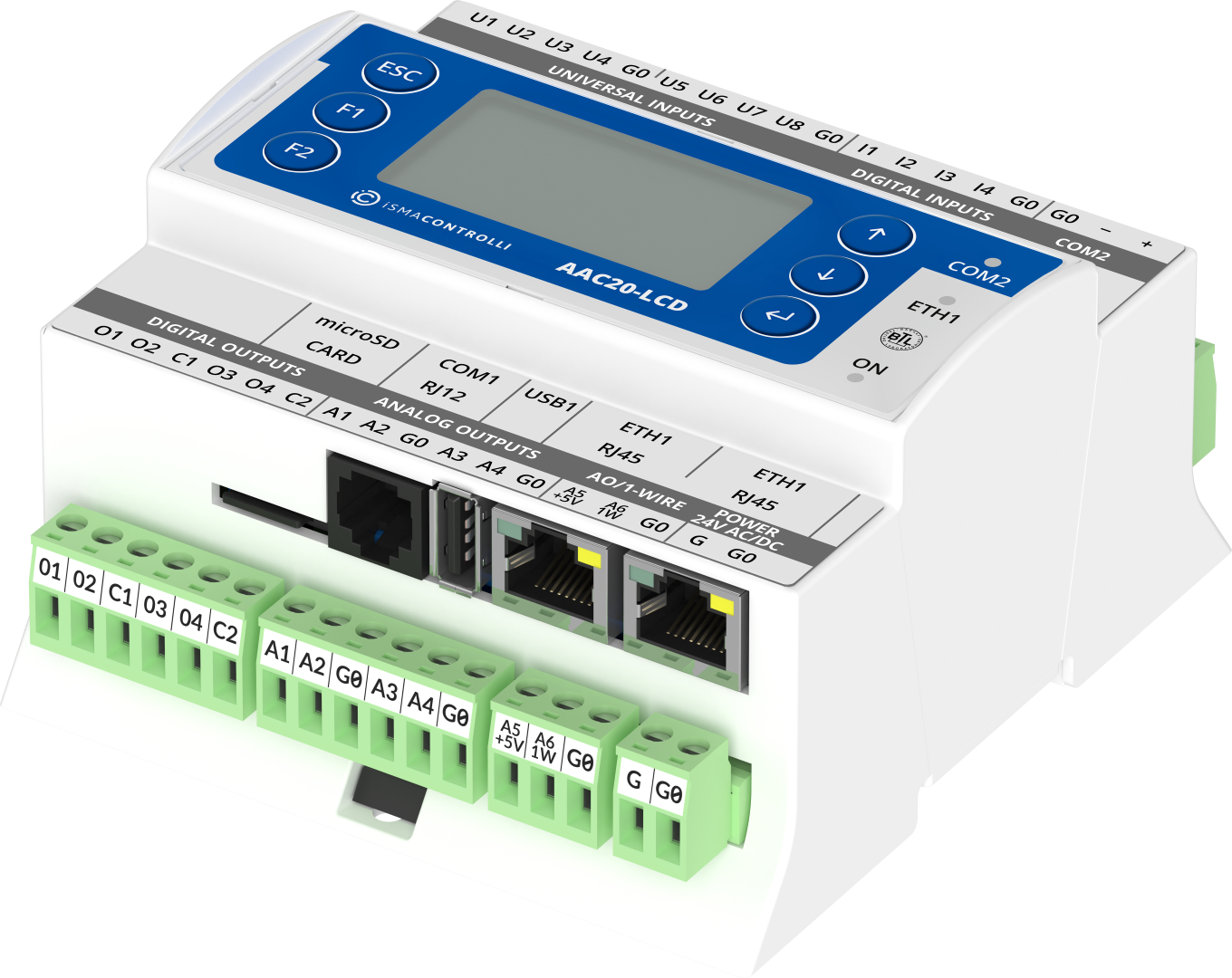 AAC20-LCD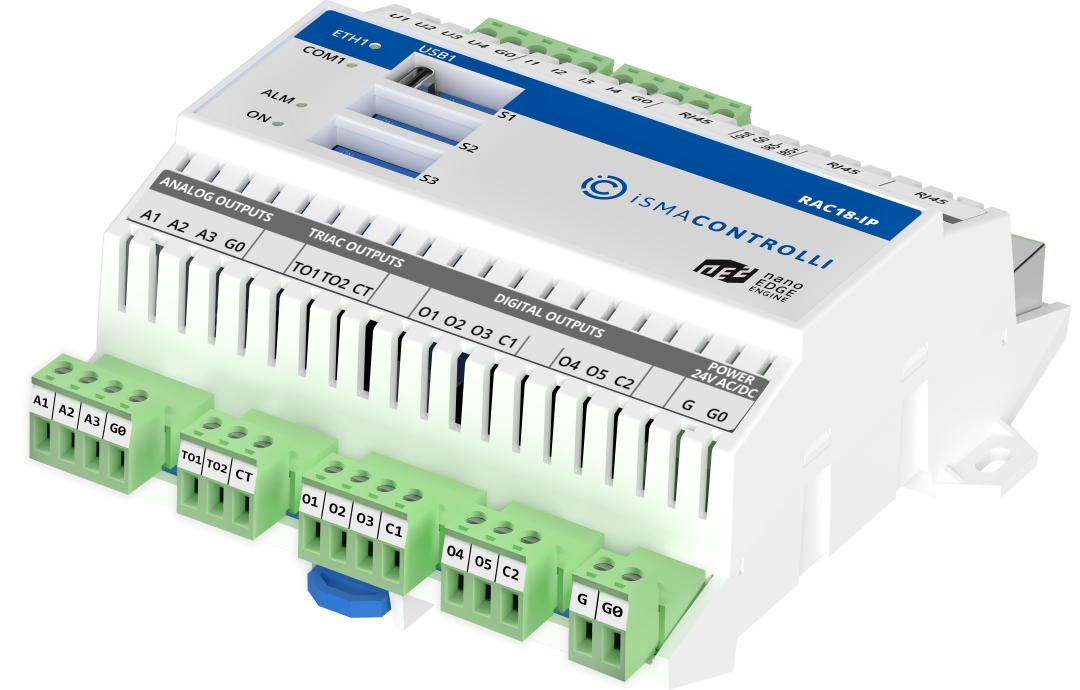 RAC18-IP
Room Application Controller
The RAC18-IP is a multifunctional device providing comfort in a single room or a zone in the building. 18 onboard I/O's with Ethernet and serial port make the controller a versatile system for comfort management, light and blind control, and integration and monitoring. The RAC18-IP controller has a built-in nano EDGE ENGINE – the cutting-edge software that allows for constructing multiple applications and provides a set of libraries and components tailored to create cycle-driven user applications. This solution provides an automatic BACnet exposure and real-time programming.
Maintenance and programming of the device are possible from anywhere in real time with a dedicated, free-of-charge tool. The RAC18-IP ensures an easy replacement process with a system and applications on a removable SD card.
Features
Room and zone IP management
Openness and reliability
Seamless programming and maintenance
Built-in nano EDGE ENGINE
Cycle-driven multithreaded application
Favorable licensing system
Reference linking method
Clear and logical structure
150 Data Points
System and applications on SD card
2 fail-safe Ethernet ports with a built-in switch
Native BACnet IP
Modbus RTU
Built-in real-time clock (RTC)
Support for over 20 types of temperature sensors
Digital inputs with fast pulse counter
Triac outputs for thermal actuators