NIAGARA ENTERPRISE SECURITY
Niagara Enterprise Security is a full-featured access control and security application built on Tridium's Niagara software platform. The application features an intuitive graphical user interface for managing access control and security that can be tailored for the end user with custom reports and graphics. When the application is hosted on a JACE® controller, it offers a complete access control and security solution that integrates with building control systems. For larger systems, Niagara Enterprise Security may be hosted on a Supervisor to manage databases and aggregate alarm and history data. This provides a robust distributed network architecture for access control, security, video surveillance and building control which meets current requirements for integrated efficient buildings.
FEATURES
Unified graphical tool set for all connected building systems
BACnet® server for integration with almost any building automation system
Scaleable from 2 – 10,000 doors
Robust, distributed architecture
Centralized data management and backup
Integrated video surveillance
Customizable access control functions using Niagara tools
Same JACE 8000 hardware platform can be used for both building automation and security
Advanced threat level management
Seamless integration between access control and building systems
Unified user interface for building systems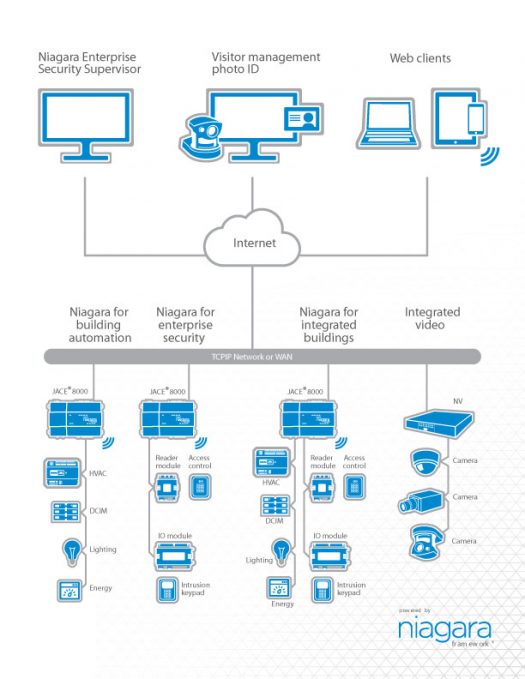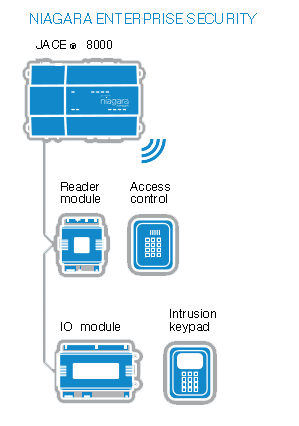 NIAGARA ENTERPRISE SECURITY – HARDWARE
Field hardware used for the Niagara Enterprise Security application includes remote reader modules, remote IO modules and intrusion keypads. The modules are connected to a JACE® embedded controller platform to remotely control and monitor security and access control devices. Using a standard RS-485 multi-drop communication bus, the modules can be located up to 4,000 feet from the JACE.
REMOTE READER MODULES
Remote reader modules provide an interface for two typical access-controlled doors. Two Wiegand reader ports compatible with most standard Wiegand proximity readers are included, along with four supervised inputs for monitoring the status of doors and requests-to-exit, and two form C relay outputs for controlling door locks. Two additional non-supervised inputs are provided for monitoring the status of the enclosure door or power supply.
REMOTE I/O MODULES
Remote I/O modules provide eight supervised inputs for monitoring dry contacts from security devices, such as motion sensors, glass break detectors, door and window status switches, and other critical building alarms. Eight form C relay outputs may be used for controlling alarm indicating devices, elevator floor control, alarm dialers, door locks and other building equipment. Two additional non-supervised inputs are provided for monitoring enclosure door status or power supply status.
INTRUSION KEYPADS
Intrusion keypads are remote intrusion displays/ keypads used to arm, disarm and monitor intrusion zones. The integral LCD display features a backlit 128×64 pixel resolution. Intrusion zone status and alarms are shown on the display. Alarms are annunciated on the piezo-electric sounder. The backlit keypad includes four function keys and 12 data keys