A solution that comes from the market requirements where the need is to monitor the environmental conditions in several buildings or in production processes without installing complex and expensive devices that require specialized technical skills for commissioning.
The QuickLink Solutions solution is based on the advanced technology of Tridium's Niagara framework, that allows connection, normalization , integration and interoperability of different devices and equipment in a common environment. QuickLink Solutions, thanks to its research and development team, has customized and enriched the value of the Niagara platform, developing a consumption monitoring system, fully integrated into the platform, that can perform accurate energy audits.
The DataLogger collects data from multiple multimeters or devices with modbus protocol and sends them to the supervisor, making data available on the cloud.
The QContax DLog interface is the DataLogger solution that allows you to collect data without the need to install a field PLC. Data is captured by multiple Modbus devices (multimeters or I/O modules), encrypted and stored on the integrated SD Card.
The archives are sent through a periodic export process to the EasyLink multisite supervisor integrated into the Niagara platform. The supervisor, thanks to a special service, receives, decodes and stores the data in the cloud, allowing the correlation with the data received from other QContax DLog interfaces.
Thanks to the EasyLink supervision system, combined with the EnergyLink module, it is possible to monitor the consumption of energy-intensive sources from one or more sites in a centralized and advanced way, and consequently define and implement energy saving strategies at a global level and adopt corrective measures in case of critical situations with danger of energy waste. The system provides an easy and intuitive graphical interface, and the possibility to customize reports and dashboards according to your analysis needs.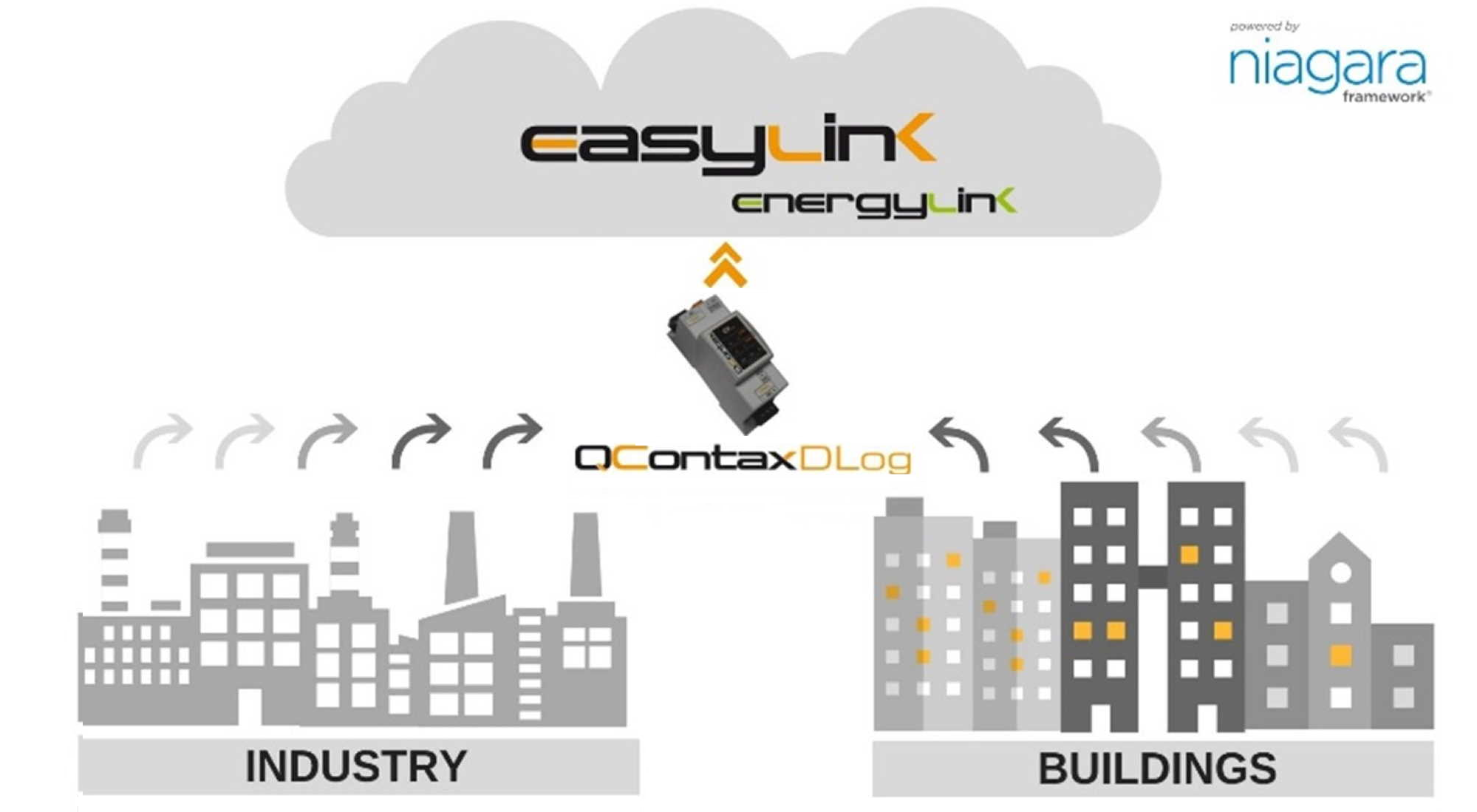 The benefits are operational, ecological and economic.
Why is that so interesting?
The QContax DLog interface is a flexible device, with a minimum footprint, much cheaper than a field PLC. The cost factor for multiple sites/buildings can play a big difference!

The installation of the solution is greatly simplified. It is not necessary to use a proprietary engineering tool but just access via web to a configuration page where it is possible to set the operating parameters such as data-points, sampling interval, roll-up. It is possible to check the device operation through the DataLogger diagnostic page.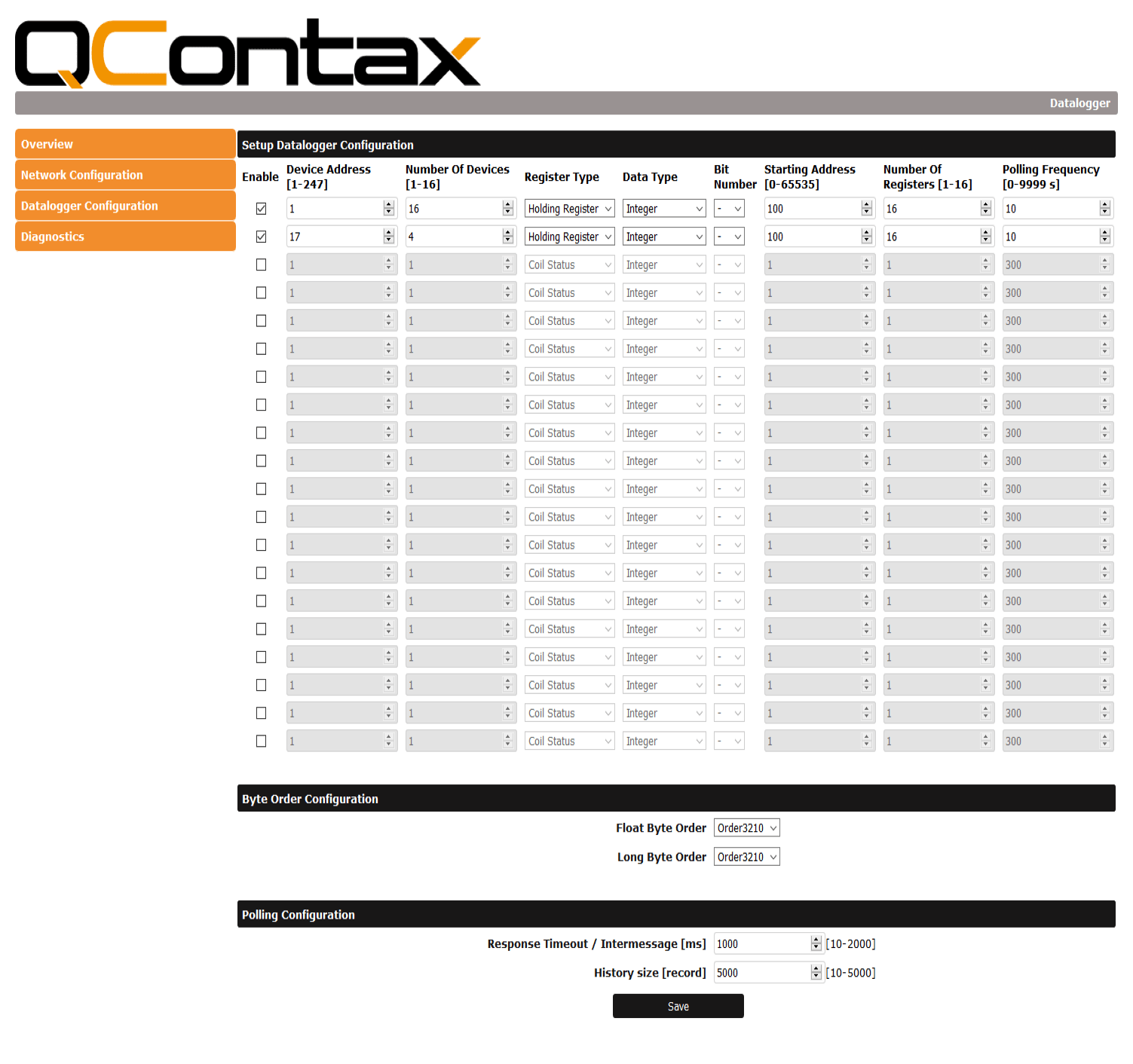 QContax – Datalogger Setup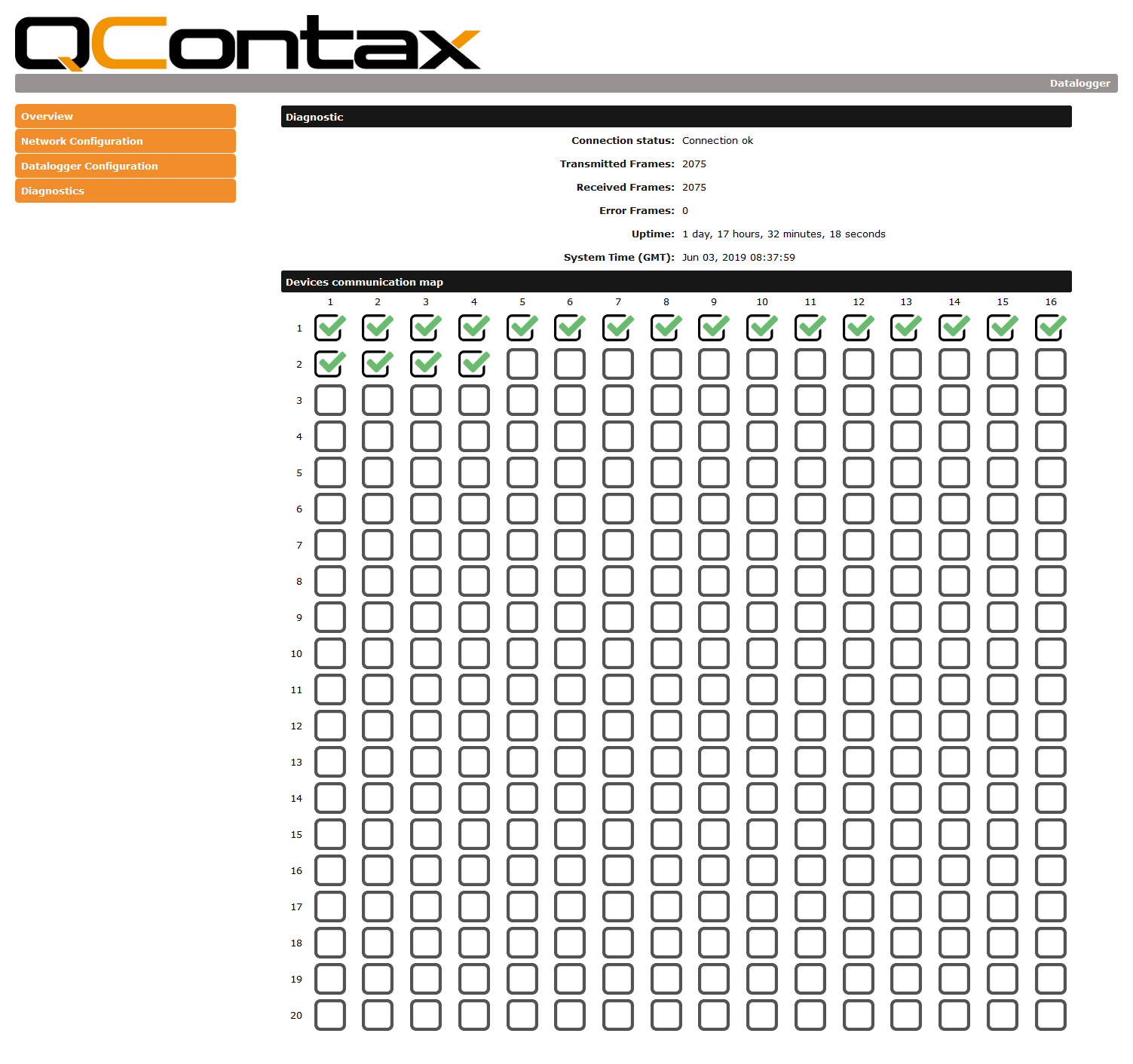 QContax – Datalogger Diagnostic
The infrastructure of this solution, based on the Niagara framework, is easily extensible and scalable and offers progressive investment possibilities. It can quickly and easily integrate other existing systems and platforms, preserving the previous investments.

The data supervision of multiple sites and heterogeneous automation systems takes place centrally through a centralized monitoring platform.

The solution can be verticalized in any sector where energy or process monitoring activities are required with wide application possibilities.