DSL-IO – DALI digital I/O units
A four-channel digital input/output module for connecting momentary or latching switches, relays, lights, or other digital inputs/outputs to the DALI bus for communication to the BMS. The DSL-IO series is able to control any building service on any DALI or other BMS network such as HVAC. Because the BMS is aware of the lighting state and user inputs, decisions about other building services can be made.  For example, once all lights are out in a room, air conditioning can be reduced, and windows closed.
Features
Fits inside a standard single BS 4662 pattress box.
Fully powered by DALI, no mains required.
Converts existing momentary or latching switches, push buttons or other sensors with volt-free outputs to DALI lighting or general BMS controls. Preserve your existing hardware and user experience.
BMS-controlled digital outputs can be used to provide feedback or to switch equipment local to the module.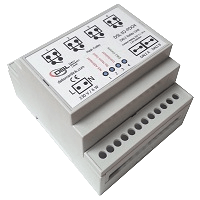 DSL-IO-PDO4 – DALI Relay Unit
A DALI-compatible interface for integrating non-DALI devices (e.g. non-dimmable ballasts and building services) into a DALI control system.
Features
Four independent volt-free contacts rated at 250 VAC / 12 A (resistive).
3 kV isolation between contacts allows different phases in one interface.
4 kV isolation between contacts and DALI network.
One interface only uses one DALI address – control up to 256 devices on one DALI network.
DALI interface is bus-powered, enabling network commissioning even without mains power installed at the interface.
Reporting of faults and loss of mains power via DALI.
Zero-crossing relay switching for maximum protection of contacts and connected loads.
Smallest package: Standard DIN-rail mounted circuit-breaker profile, 71 mm wide.