DSL MASTER – DALI BMS Gateway
Interfaces a Building Management System to a DALI lighting network. Integrates lighting control with other building services and data sources to achieve the best efficiency, user experience, and system maintainability.
Key Features
Royalty-free Niagara drivers provide all DALI network configuration and device discovery capabilities. All operations are done in the BMS environment; separate development tools and skills for lighting control are not needed.
Pre-engineered software modules for common lighting control solutions are provided.
Up to 25 DALI networks may be controlled by one JACE controller.
Integrated DALI PSU simplifies wiring, reduces panel space requirements and improves efficiency.
USB port (virtual COM port) permits use from any PC running Niagara for development and diagnosis.
3 kV isolation between BMS and DALI network.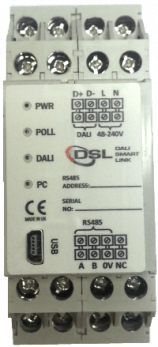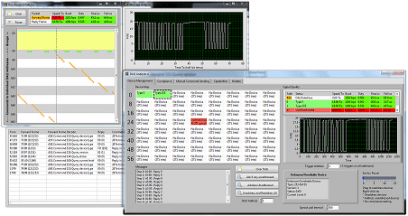 DSL ANALYSER
A pocket-sized device which turns your laptop into a virtual oscilloscope to configure and diagnose DALI networks. By looking at the DALI network, subtle installation and device problems can be diagnosed. The easy interface can be used during commissioning to verify an installation and devices for compliance with DALI specifications.
Key Features
The DSL DALI Analyser is a DALI interface which optionally connects to a PC or BMS via USB or RS485.
Provides 3000 V isolation between the DALI bus and PC/BMS.
Contains a 48 MHz processor 16-bit ADC capable of measuring and analysing the quality of the DALI baseband signal, not just a digitised form of the signal, providing a "virtual oscilloscope" in conjunction with a PC.
Provides intelligent trigger outputs to trigger conventional oscilloscopes on specific patterns of DALI usage.
In combination with the provided PC software or your own software (full protocol provided), the DSL DALI Analyser can be used to control or pinpoint and resolve faults with DALI networks and devices.